COAT
The Collaborative Ontology-based Annotation Tool (COAT) has been developed as a NeOn plug-in to address distributed collaboration amongst annotators.

COAT enables the manual semantic annotation of texts with references to a browsable ontology. This takes the form of the identification of instances of domain concepts in documents.

Text annotators can load and collaboratively annotate text spans as new instances of ontology classes in a distributed fashion. They can collaboratively extend and amend the text annotations by accessing the files, and adding, deleting or modifying text annotations and annotation types.
The text annotation tasks are performed within the GATE system.

GATE is a framework and graphical development environment, which enables users to develop and deploy language engineering components and resources in a robust fashion.

It supports the following text formats: XML, PDF, RTF, Microsoft Word, HTML, SGML, email and plain text. Not all versions of PDF and Microsoft Word are supported.

Whenever a document is created or opened in GATE, the format is analysed and converted into a single unified model of annotation. The annotation format is a modified form of the TIPSTER format, which uses the now standard mechanism of 'stand-off markup '. The user of COAT will be able to upload, access and process documents in this format on the GATE annotation server.
See the diagram below for a schematic overview of COAT's functionality.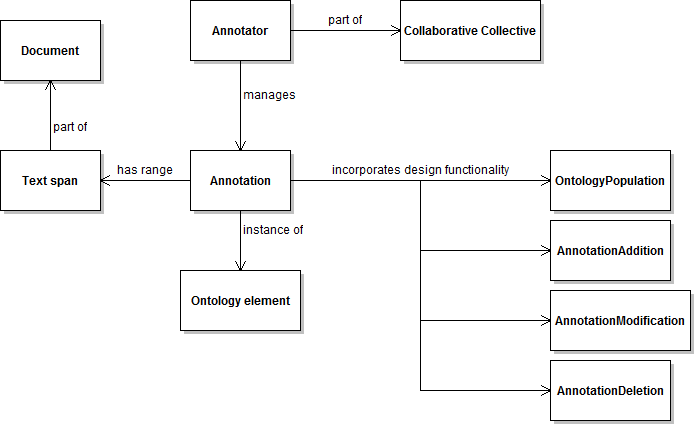 ---
Installation and activation of the plugin
Download the COAT jar file
Put it in the plugins directory of your neon toolkit
Click on the "GATE Services" icon on the main menu of the Neon toolkit.
Choose the "Open COAT" option
A browser window is automatically opened with the COAT main page
Follow the instructions in the COAT manual

Technical support
Since the software forms part of the GATE architecture, it is supported by the regular GATE support infrastructure. This is detailed more explicitly on the GATE website. Further information and detailed documentation about GATE can be found in the GATE User Guide and questions about GATE can be addressed to the GATE Users mailing list.
Licensing
The software is part of GATE and is therefore available under the LGPL licence and is available to use for both commercial and research purposes.
Disclaimer
This software is produced as part of the NeOn project. Material produced within NeOn may include information, software and/or media (individually and collectively the "Information"). The Information is made available by the NeOn Consortium and its partner organisations. Our goal is to keep this information timely and accurate. If errors are brought to our attention, we will try to correct them in line with the recommendations contained in the Quality Assurance Plan. However, the NeOn Consortium may accept no responsibility or liability whatsoever with regard to the Information. This information is:
not a professional or legal advice (if you need specific advice, you should always consult a suitably qualified professional);
sometimes linked to external sites over which the NeOn Consortium has no control and for which it assumes no responsibility;
not necessarily comprehensive, complete, accurate or up to date;